Coconut Chicken Bites with Creamy Curry Dip
Breaded coconut chicken served with a spicy curry dip
Macadamia Nut Chicken Strips with Sweet and Sour Sauce
Macadamia nut breaded chicken fingers with sweet and sour sauce on the side.
Buffalo Chicken Bites
Shredded chicken mixed with Frank's Hot Sauce and cheddar cheese in a Risotto Ball. Served with a Blue Cheese Dipping Sauce
Chicken Yakitori Brochette
Dark chicken meat pieces marinated with sweet soy sauce on a wooden skewer.
Mini Chicken Wellingtons
Minced chicken and mushrooms wrapped in pastry dough.
Mango Brisket Bite
Texas smoked brisket with mango BBQ sauce in a puff pastry.
Antichoci Beef Skewers
Marinated Peruvian Style beef skewer.
Bulgogi Cups
Koran-styled beef in a phyllo cup, topped with Asian dipping sauce, fresh basil and ginger.
Mini Beef Wellington
Minced beef and mushrooms wrapped in pastry dough.
Beef Fritters with Jalapeño Gravy on Mini Biscuit
Breaded and fried bite-sized beef steaks on a buttermilk biscuit and topped with jalapeño pepper gravy.
Kailua Pork Empanada
Kailua braised pork in a flaky hand-made empanada.
Mascarpone Tarts
Blend of mascarpone and blue cheeses with caramelized red onions in a phyllo shell.
Smoked Portobello Soup Shooters with Truffle Oil
Rich and creamy Portobello soup served in a shot glass and drizzled with truffle oil.
Creamy Butternut Squash Soup Shooter
Roasted butternut squash soup served in a shot glass and topped crème fraise.
Mac & Cheese Bites
Gourmet mac & cheese with smoked gouda and applewood smoked bacon in a phyllo cup.
Mushroom Strudel
Sautéed mushrooms and queso fresco in a puff pastry
Risotto Cakes with Lemon Crème Fraiche
Creamy risotto mini cakes pan-seared until golden and topped with lemon crème fraiche.
Pastry-Wrapped Asparagus and Parmesan Cheese
Asparagus tips in puff pastry, baked and finished with parmesan cheese.
Arancini Balls
Creamy fried risotto balls filled with pine nuts and mozzarella and fontina cheeses.
Sun-dried Tomato Balls
Creamy fried risotto balls with sun-dried tomatoes and parmesan cheeses.
Columbian Sweet Bites
Traditional Columbian dessert of figs, carmel and cheese in a puff pastry.
Shrimp & Grits
Sautéed shrimp on garlic cheddar grits and topped with crumbled bacon and fresh basil on a serving spoon.
Crab Cakes with Cilantro Tartar Sauce
Crab meat blended with herbs, pan-seared and served with cilantro tartar sauce.
Crab Rangoon Puffs
Asian style crab mixed with cream cheese in a puff pastry.
Cajun Catfish Cakes with Remoulade Sauce
Cajun style catfish blended with herbs, pan-seared and served with a remoulade sauce.
Gourmet "Dilla" – Quesadillas with a Twist
Pulled Pork and Smoked Gouda, Brie, Mango and Caramelized Onions.
BBQ Shrimp, Bacon and Cheddar
Tenderloin Chuck and Gorgonzola Cheese with grilled Red Onions.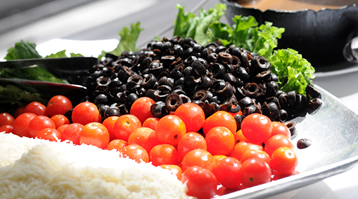 Citrus-Cilantro Shrimp with Chipotle Cocktail Sauce
Jumbo shrimp marinated with citrus juice and chopped cilantro, served with chipotle cocktail sauce.
Chicken and Cashew Salad on a Pita Chip
Diced chicken tossed with toasted cashews and hummus vinaigrette on a crispy pita chip.
Watermelon & Jicama Skewers
Cubed watermelon & jicama on a skewer.
Smoked Salmon Roulade on Dark Rye Toast
Smoked salmon and herbed cream cheese roulade served on toasted dark rye bread.
Guacamole and Rock Shrimp
Latin style fresh guacamole in a phyllo cup topped with rock shrimp.
Greek Kabob
Herb-marinated kalamata olives, roasted tomato and mozzarella cheese on a bamboo skewer.
Goat Cheese Mousse Filled Artichoke Hearts
Whipped goat cheese with caramelized red onions and herbs in an artichoke heart.
Fresh Mozzarella and Sun-dried Tomato Tapenade
Sliced fresh mozzarella on a crouton with sun dried tomato tapenade and fresh basil.
Queso Fresco and Guava Kabobs
Chunks of guava and fresh cheese on a bamboo skewer.
Polenta Cakes
Bite-sized polenta cakes topped with black olive tapenade and roasted red bell peppers.
Assorted Petite Wraps
Chicken, ham and roasted beef mini wraps.
Domestic Cheese Display
Provolone, Swiss, cheddar, pepper jack and brie cheeses garnished with fresh and dried fruit and served with assorted crackers.
Seasonal Fruit Display
Sliced cantaloupe, honeydew, watermelon, pineapple and seasonal berries with cinnamon yogurt dip.
Roasted Vegetable Display
Aged balsamic vinaigrette marinated yellow squash, zucchini, red onions, asparagus and red bell pepper, mushrooms, carrots, eggplant and fennel served with herbed cream dip.
Vegetable Crudités Display
Yellow squash, zucchini, mushrooms, carrots, celery, bell peppers, cucumbers and tomatoes Served with ranch dressing.
Antipasto Platter
smoked turkey breast, salami, pepperoni, prosciutto, roasted vegetables, provolone cheese, blue cheese and olives served with sliced French baguette.
Smoked and Cured Salmon Display
Sliced smoked and cured salmon served with chopped eggs, red onions, capers, herbed cream cheese and marble rye toast points.
Lettuce Wraps with Grilled & Smoked Chicken
Chicken breast cooked three ways and served with Boston lettuce wraps and pesto cream sauce.
Cheese, Breads and Spreads
Domestic Cheese Display with Seasonal Crusty Breads, Fresh whipped butter, cheddar bacon spread and a creamy olive spread.
Sushi Presentation
Ask the chef for seasonal selections.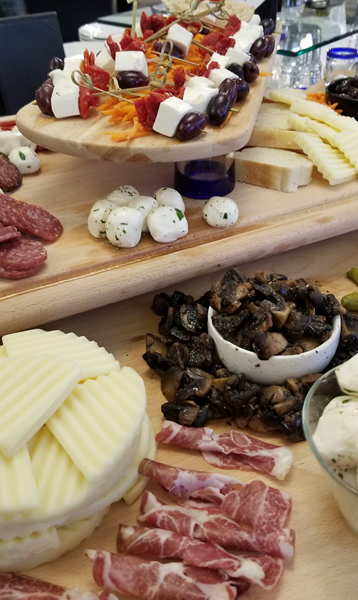 Taquiza Station
Ancho chile marinated pork and beef fajitas with pasilla pepper, ancho pepper and tomatillo salsas, chopped onions and cilantro served with a la minute warmed corn tortillas.
Slider Station
Choice of Two: Traditional Slider Burger with Cheddar Cheese and Bacon. Pulled Pork Slider with Sweet Caroline-style BBQ Sauce. Texas Brisket Sliders with Mango BBQ Sauce. Crab Cake Sliders with Cilantro Tartar Sauce, Lettuce and Tomatoes. Chicago-style Italian Beef topped with Peppers.
Pasta Station
Julianne vegetables, sliced mushrooms, scallions, asparagus, diced tomatoes, broccoli, chopped herbs, pesto and diced chicken. Served with Garlic Bread Sticks. Choice of Two of our Pastas: Penne, bowtie, fusilli, or cheese tortellini. Choice of Two of our Sauces: Marinara, alfredo, creamy pesto, sun dried tomato or roasted garlic.
Carving Station
Chef carved meats with fresh baked rolls and condiments. Roasted Beef. Roasted Turkey.
Quesadilla Station
Chicken and grilled vegetable quesadillas cooked a la minute served with sour cream, homemade salsa and guacamole.
Avocado Station
Fresh avocado halves with ceviche, corn and black bean relish, chipotle cream and cilantro-lime cream toppings.
Mac & Cheese Station
Traditional mac and cheese with herbs and apple smoked bacon. Smoked Gouda mac and cheese with julienne honey ham and fresh spinach.
Soup and Sandwich Station
All American: Grilled Cheese Sandwiches and Tomato Bisque.
Tex Mex Style: Grilled to Order Cheese Quesadilla and Tortilla Soup.
PREMIUM CHEF ACTION STATIONS
Carving Station
Rack of Pork or Beef Tenderloin. Chef carved meats with fresh baked rolls and condiments.
Mediterranean Fusion
A bed of herbed risotto with a choice of fresh red fish or chicken breast. Topped with micro greens and sun dried tomato infused oil.
Asian Rim Station
Beef stir fried over rice noodles & Bay shrimp stir fried over steamed rice. Served with sweet and sour sauce and spicy szechuan sauce.
Braised Beef Short Ribs Station.
Braised Buffalo. Slow cooked atop garlic mashers and topped with caramelized onions. Served in a martini glass.
Clothespin S'mores
Graham crackers dipped Premium chocolate and home-made marshmallow and flamed on site.
Bananas Foster
Bananas sautéed with rum and brown sugar and served over vanilla ice cream.
Texas Peach Crisp
Texas peaches baked with cinnamon, crispy oatmeal and brown sugar over vanilla ice cream.
Chocolate Fountain
Premium chocolate with whole strawberries, seasonal fruit, marshmallows and miniature cookies.
Bread Pudding with Sabayon Sauce
Gelato Bar
Choice of two flavors.
Ice Cream Sundae Bar
Fruit Cobbler with Vanilla Ice Cream
Seasonal Fruit Mousses in Shot Glasses
Ask our chef for flavor choices.
Chocolate Marquis Cake
Strawberry Cream Cake
Mini Petite Sweets
Assorted Panna Cotta
Ask our chef for flavor selections.
Smoothie shooters
Choice of two flavors.
White and Dark Chocolate Covered Strawberries